This post may contain affiliate links for products I recommend. If you click a link and buy something I may receive some compensation. This does not change the price you would pay.
San Antonio, Texas: A Great River City
I have been lucky enough to live in San Antonio three different times in my life. After high school though, like a lot of teens, I wanted to go somewhere else for college, so I moved 90 miles away to Austin. Every year at Fiesta time I would take a group of my friends to San Antonio to visit the festival and show them around the city, and they would "ooh and aah" so much I began to notice how very interesting and charming the city is. It's funny how when you see it through someone else's eyes you begin to see things you didn't see before. Since then I have taken quite a few people to visit there. My parents lived there for years and I have other family there too, so it's still a place I get to visit often.
I am always so happy to see the city come into view in the airplane window! From the air, it is a sea of green trees. Being a river city, it has lots of water, and everything grows…so it's full of old growth trees. Under that green canopy lies a charming bustling old world city. When I read the guide books about San Antonio, they talk about the Spurs and the Alamo and the famous Riverwalk, but there is so much more…so come along for a tour of my San Antonio…and some places they miss.
My only caution is to plan to go sometime besides the months of July, August, or September, unless you like hot and sticky humid weather. As the natives there like to say, "God created August so the tourists would go home."
San Antonio is a Very Child Friendly City

So, Bring the Kids! If you are bringing your children, San Antonio has a myriad of ways to entertain them.
Attractions include, Sea World, Fiesta Texas, The San Antonio Zoo, The San Antonio Riverboat Ride, and the World's Longest Miniature Railroad which stops at the zoo.
Sea World is just like the one in California and closer to the East Coast and the Midwest, so more convenient for lots of folks. It has all the same gorgeous sea creatures and the same Dolphin shows and all the beautiful exhibits. Children really love it.
Fiesta Texas is a theme park similar to many, like Disneyland only smaller, built around a Texas theme. It has thrilling rides and adventures and is an all day event by itself.
I like to take children to the San Antonio Zoo, which is one of the largest zoos in the world. It is located in beautiful Breckenridge Park and will also take most of a day.
The animals are housed in natural surroundings. San Antonio has an abundance of rocks so there is lots of native rock used all throughout to give the animals a more natural homestead.
Right next to the zoo is the train depot for a ride through the wilds of Breckenridge Park (just kidding) It's not really wild, just scenic. The train is the world's longest miniature railroad and children adore it. I like riding it myself, as it is open air and the scenery along the way is spectacular.
While you're by the zoo, walk a little way and visit the Sunken Gardens. It's a serene spot with a huge pagoda where you can picnic or buy snacks and sandwiches next door…and enjoy a rest while looking out across the pond and beautiful bridges and plantings. Because it is so beautiful, many people have their weddings there.
Back in the downtown area, the Riverwalk has a riverboat ride that is not to be missed by anyone! Children really like it and the tour guides are very knowledgeable and entertaining. A peaceful ride with spectacular scenery …ending at the River City Mall, which has all the amenities of any mall, including kid friendly spaces. It's my favorite thing about my San Antonio. I always go downtown when I am there and ride one of the boats!
Where to Stay in My San Antonio
You can't see all of San Antonio in one day, so get a nice hotel.  I think it is best to stay downtown or nearby. My favorite place to stay is in the King William district or the Paseo Del Rio Hotel on the River.
The King William district is one of the oldest parts of the city and is known for huge old mansions that many have restored to their former glory and turned into beautiful "Bed and Breakfast" inns. The district is very close to the downdown area and a short cab ride away. I always go to the national Bed and Breakfast website and stay in a new one each time. I've never been disappointed!
If you want to be right in the heart of the action, stay in the Paseo Del Rio, which was built for the 1968 World's Fair, called Hemisfair. A little known fact is that it was built out of modules. It took so long to get approvals for the hotel to be built that the firm building it was running out of time to complete it before the fair began, so they scrapped the plans they had and built the entire hotel from prefab modules and had cranes slide them into position. Right on the river, it has gorgeous views, and on the top floors you can see the whole city. Sometimes people rent rooms on those floors for parties and weddings. My brother had his reception there after getting married in the oldest church in the city, in La Villita.
Otherwise, all the chains have nice hotels all over the Riverwalk area. Don't stay out at the airport. It is a long ride to the downtown area where many of the attractions are.
Where to Eat in San Antonio
If you like Mexican food, you are in for a treat! San Antonio is known for its own brand of Mexican food, called Tex-Mex. It is more spicy than California Mexican food.
All the chain restaurants are there, like the Hard Rock, and Ruth's Criss, but you really should experience some of the local food to understand the culture there. These are some restaurants that are a little different.
Casa Rio~ The first restaurant on the Riverwalk, and it has great Tex-Mex, at a very reasonable price…watch the boats go by while you eat.
Jim Cullen's Landing~ Also on the Riverwalk downtown. A great spot to go to at night for a romantic little dinner with live Jazz thrown in…Continental food at reasonable prices.
HemisFair Tower of the Americas~ For a bird's eye view of the city that revolves once an hour and fine dining that is reasonable, visit this eatery in the sky. One of my favorite places to take visitors.
Bill Miller's Barbeque~ Texas is famous for two cuisines: Tex-Mex and Barbeque. Bill Miller's is a local barbeque chain that is a fixture all over the city. You can go in to dine, or order ahead and take it home. Delicious and reasonable. Huge portions.
The Barn Door~ another favorite! The Barn Door is located in Alamo Heights, an older part of the city a little north of downtown. It has been there forever and serves steaks and prime rib and all the trimmings. Checkered tablecloths in an old barn. The food is scrumptious. A locals favorite! I always take people there when visiting!
Liberty House~ It looks quirky, but inside it's fine. Very reasonably priced food of all kinds in a festive atmosphere. Downtown, close to the Alamo.
Rosario's~ more Tex-Mex. A little more upscale, but still a great value, and a local's favorite. Very close to the downtown area.
Guenther House~ a romantic setting on the river…originally started by the founder of the Pioneer flourmill company and it still only uses Pioneer flour in all its breakfast foods and breads. Enchanting, and it serves breakfast all day.
If you get hungry, stop in any Mexican food place. They're all better than 90% of the Mexican restaurants anywhere else!
The Alamo
A Must See!  You can't go to San Antonio and not go to the Alamo!  You might think the Alamo is just a boring old fort, but actually it has lots of interesting artifacts and exudes a sense of history while you are inside that is quite captivating. I find it very peaceful and picturesque. The grounds are much larger than it looks in the pictures you usually see. Don't miss it.
Photo is from Wikipedia Commons
For a good depiction of what happened there, watch the movie.
Fiesta in San Antonio~Party Time!
San Antonio is more than half Hispanic and the biggest celebration of the city is in late April of every year, about 10 days before Cinco De Mayo. It varies a little as it always starts on a Friday. The whole city stops to party for Fiesta. It is held downtown by the river and is basically an International street fair, with lots of food from every country, music, dancing, exhibits, and good times. The weather is usually perfect and the party goes on all day and all night for a whole week!
The Riverwalk~My San Antonio
Here it is at night during Christmas.
Photo is my own, please don't copy.
San Antonio was built around a small river, the San Antonio River and sits on an underground aquifer that feeds the river. It rains quite often and the little creeks all over the city flood along with the river. To keep the businesses along the river dry, the city has floodgates and periodically has to close the gates to control the height of the river. Most of the time this prevents flooding downtown, but occasionally the river has to be partially drained. On St. Patrick's Day they dye the river green!
Before the world's fair in 1968 it was actually shorter, but to accommodate all the new building that went on for the fair, the river was dredged out to make it longer and connect it with another tributary. The fair also spurred a rapid regrowth of the downtown area and brought in a lot more tourists, so more restaurants and hotels were built on its banks, and a beautiful mall was built right where the landing for the river boats is. The mall is a work of art in itself, 3 floors of glass fronting the river.
If you take a tour of the river(which I totally recommend) you will see lots of original buildings, and the original little village that was San Antonio in the beginning…called La Villita. It is very quaint with cobblestone streets and a grand old Catholic church. During Fiesta it turns into a street fair.
More San Antonio Attractions
A couple more interesting places:
Right in the middle of the city sits an old rock quarry. There are many rock quarries in the areas around San Antonio, and this one used to be outside the city limits.
When it was finally stripped of all its rocks, the company sold it to a developer and he turned it into a unique outdoor mall called the Quarry Marketplace. Walking around you are looking up at old walls of rock, a different kind of scenery, but beautiful in its own way. There are many quaint restaurants and shops.
They are not as well known as some of the other attractions, but the Botanical Gardens are quite spectacular if you enjoy plant life and seeing different species that are not native to your own environment. It is a 2 hour walk around the beautiful grounds, and I have never seen it crowded, so if the weather is nice, it's a great outdoor activity.
I Hope You Enjoy My San Antonio!

Get Your Texas Sheriff Badge Here! Every cowboy in Texas is a deputy or a sheriff it seems….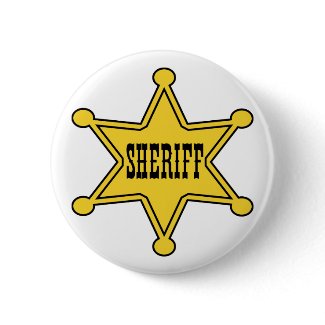 Sheriff Badge by imagefactory
See other button designs
My San Antonio
Magnolia trees line old old streets
And perfume the air with a heavy sweetness
That permeates everything: the creeks that spread out
From the river, like a wagon wheel piercing the sagebrush
And Mesquite trees, still standing everywhere.
In the Spring the Natives make the annual Bluebonnet
Pilgrimage to the Hill Country north of here, and from
Time to Time visit the old Alamo for inspiration. If they
Still party, they take in Fiesta. Might as well,
The whole city stops for it and time stands still for a week.
Barbeque, TexMex and Cowboy cuisine coexist
Along with Tejano, Country, and Rock Music.
The rodeo still rules here but nothing tops Spurs fever.
This is quintessential Texas history drenched living
At its finest.
© Heather Burns