Paris, France, City of Light and Angels
This post may contain affiliate links for products I recommend. If you click a link and buy something I may receive some compensation. This does not change the price you would pay.
The City of Light and Angels
After we left Nice we headed for Paris, France, City of Light! First we stopped off to see a dear friend in Voiron and have dinner with her and her darling family. Voiron is near Grenoble so it's by the Swiss Alps and has spectacular views of them. The train ride from Nice to Voiron was just breathtaking! And the ride to Paris also! We were so glad our friends told us the best way to get to our apartment in the 17th Arrondissement or I'm not sure we would have ever found it! Paris is so large it has 5 major train stations! But we got a taxi and did find it, and settled in for one of our most fun 9 days in Europe! Photo is one of the statues  at the end of the Pont d'Alexandre. (Alexander Bridge)
Paris is just mesmerizing! We might have picked a better time though as the day before we got there was the day that terrorists chose to gun down the journalists at the Charlie Hebdo office. So the whole city was on edge and the Eiffel tower closed down for 2 weeks so we didn't get to climb to the top. I was really upset about that! But of course that could be a target so I understand why. There was a marked police presence in the city too.
And in fact there was a horrible incident while we were there too, a bomb in the subway close to Notre Dame! I was so angry that those Muslim terrorists were trying to hurt people and beautiful buildings in the magnificence of Paris! It put everyone on edge, not just the police. We still rode the subways everywhere but were nervous. And it seemed like everyone was watching everyone else with fear. We tried to ignore it, but it was impossible to miss.
Paris, France, City of Light
Still, it's Paris! Nothing can completely detract from its beauty. It's an Art Nouveau dream! The whole city is decorated in Art Nouveau, the buildings, the monuments, the bridges, the signs, even the lamp posts! I have never seen so many beautiful lamp posts. Here is one of them outside of Notre Dame Cathedral.
And no, it's not called the City of Light, (or City of Lights) because of all the beautiful lamp posts, at least not completely. They say it is called the City of Light for 2 reasons, one because of its leading role during the Age of Enlightenment, and more literally because Paris was one of the first European cities to adopt gas street lighting. So those beautiful lamp posts do have something to do with it after all. Here is a photo I took of one of the lamp posts on the Pont d'Alexandre looking toward the Eiffel Tower. I love how it turned out.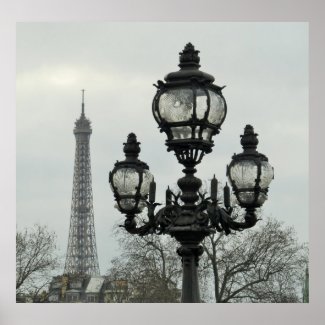 Paris Lamp Post and Eiffel Tower Scene in Winter Poster
by
Heather426
Search for another
framed art work
There is so much to do a person could get overwhelmed just trying to figure out where to go and what to do, so we splurged and got the 2 day bus tour so we could hop on and off at any point of interest any time we wanted. It's appropriately named the Hop On Hop Off Tour Bus. You can catch it on the Champs-Élysées. The bus tour even stops at the Louvre and the Musee D'Orsay, so it saves on subway fare or taxi fare too. We took a day in each of those fantastic museums; we're both artists so they were high on our list of places to see. Both were awesome in different ways. Unfortunately, you can't take photos of the art in either one, as it might ruin it. But we have our memories!
Of course we had to see the Eiffel tower in daylight and at night. It was towards the end of the Christmas season so they would light up the tower like a Christmas tree for about 30 minutes every night in addition to the regular lights. (This photo was snapped with my iPhone.)  We also saw all the famous buildings and churches. We stayed near the Champs-Élysées and the Arc de Triomphe so got to see them every day on our way to the subway station. Here is another one of the Eiffel Tower I took while waiting for the bus. I made it into a poster that you can buy. Just click on the poster to see all the options.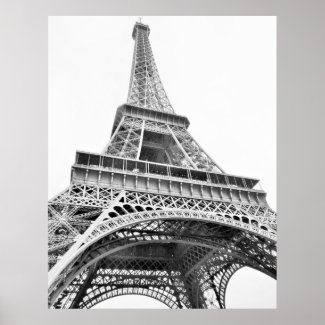 Eiffel Tower Black and White Poster
by
Heather426
Check out Eiffeltower Posters online at
zazzle
I made this one into a poster too, and I like the effect of the tree branches around the stark steel of the tower.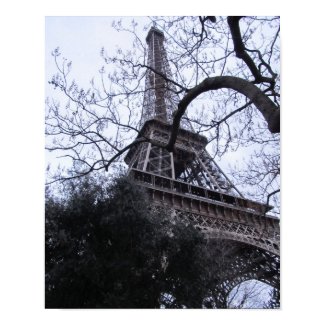 Eiffel Tower, Paris, France, in Winter Poster
by
Heather426
See additional
Posters
& Art online at Zazzle
Below is the Place de la Concorde's huge Ferris Wheel, and the Obelisk decorated with hieroglyphs exalting the reign of King Ramses II.  The Luxor Obelisk is over 3,000 years old and was originally situated outside of Luxor Temple, where its twin remains to this day. It first arrived in Paris on December 21, 1833. It was a gift from Egypt's Muhammed Ali, Khedive of Egypt. Look at all the beautiful lamp posts surrounding it. The Ferris Wheel is a famous landmark of Paris too and I remember riding it when I was a little girl living in France.

 Chartres Cathedral, in a suburb of Paris
 We also spent a day at Notre Dame Cathedral, and took a day to go down to the town of Chartre to see the famous stained glass windows of that beautiful cathedral too. We loved every single minute of our Paris visit. Below are photos of Chartre Cathedral. The stained glass in Chartre was actually taken out and hidden during World War II so it would not be ruined. But despite years of study, the process for making it has been lost to history. It contains bits of gold which is why it is particularly luminous.


Not to mention the food in Paris! Oh my God, the food. I don't think there is any bad food in Paris. Every little coffee shop has unbelievable pastries and coffee!
It's called the City of Light, but I call it the City of Light and Angels. There are Angels everywhere! All over the churches, all over the buildings, the ceilings, the train stations, on the lamp posts, they're everywhere! I could definitely live in Paris! What a spectacular city!!! I think it was my favorite big city in Europe. We didn't want to leave! But we had to, so we decided to take a long train ride to Barcelona next, for some warmth. Stay tuned!
Photo is an Angel in the hand of the statue at the end of the Pont d'Alexandre. (Alexander bridge) I snapped it every time the bus went by but the bus movement made it hard to get one that wasn't blurry, and on about the 8th try I finally got this one that I really love.
A word about getting around Paris. Its actually pretty easy to get around Paris. The metro goes everywhere, even to train stations. And there is an intercity train too. If you stay near the Champs-Élysées you will be near both the metro and the intercity train. Go into a station and get a schedule. They always have an English speaker there to help you. Trains and metro trains leave every few minutes to everywhere you want to go. You can easily get taxis too, and buses. We never ended up taking any buses except the Hop On Hop Off bus though, as the metros are so cheap and easy to navigate.
Photo is one more of the stained glass panels at Chartres Cathedral. All of these photos of Chartres were taken with no flash, because none is allowed, so that might give you an idea of how rich and beautiful the color of the stained glass really is.
Do you see why I call it Paris, France, City of Light and Angels?
All Photos, © Heather Burns, All Rights Reserved. Please do not copy.