This post may contain affiliate links for products I recommend. If you click a link and buy something I may receive some compensation. This does not change the price you would pay.
Santa Fe, New Mexico is a Gem!
I first stumbled onto Santa Fe, a little gem of a town, in 1973 on a trip to Texas from California. We had never even heard of it but signs on the highway mentioned its quaintness so we took a little detour into the Southwest's quintessential past. We were greeted with adobe after adobe house and building, and quickly learned that a city ordinance requires that all buildings must be in the ancient Pueblo design of adobe or at least look like it. How utterly quaint! With the sagebrush and the dusty air from the high desert and the brown dirt and the horses and the clothing the natives wear, we felt like we had stumbled into a movie set. But no, it was real.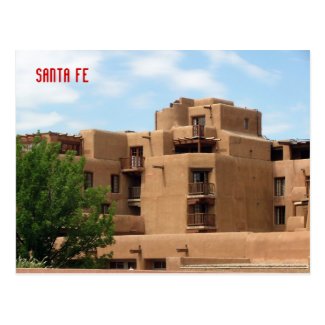 Santa Fe Post Card
by
ribizlifozelek
Learn about
postcard printing
using Zazzle
As it turned out Santa Fe was a frequent destination for many years, because I went to the University of Colorado at Colorado Springs and we made many trips to Santa Fe to set up art shows and attend them. (I got my B.A. in Philosophy and Art) I grew to love that high desert town!
Later Hollywood found out about its charms and it's never been the same. Many movie stars bought land around Santa Fe and brought a new kind of tourist, not always the welcome kind.
But it's time to sample its charms again. This time I'm going to a spa and sit in the mud bath and the mineral springs and relax before siting in the jacuzzi with a glass of wine looking up at the stars which shine so brightly away from the city.
Things to do in Santa Fe, New Mexico
Meanwhile let's start with the food. Santa Fe has spectacular Mexican food!!! Don't miss trying the New Mexico brand of this wonderful Southwest traditional food. You have to try their sopapillas. (to die for) I really have never had a bad food experience in Santa Fe.
Then there are the attractions, chief among them is the Loretto Chapel with its mysterious circular staircase. The story is that a stranger built it and moved on without payment. It has no center pins or nails and is structurally sound and an engineering marvel. The 2 questions that surround it are these: Who built it, and how does it stand?  The nuns who had it built believed that the mysterious carpenter was Jesus reincarnated. I can see why but not sure what to think about that. Others say he was an Angel. Maybe? You can feel a special energy in the chapel. Well worth seeing.

Photo is from Wikipedia.
If you're an art lover you will find Santa Fe is a paradise for you. It's the third largest art market in the United States, right behind New York City and Los Angeles. You will find any kind of art for any kind of budget. I highly recommend Santa Fe, New Mexico!