Why Use a Travel Packing List?
If you travel a lot or even occasionally you might have discovered that there is an art to packing your suitcases for an easier trip. And it's even easier if you use a travel packing list.
I made myself a packing checklist for traveling, and a separate carry on packing list which I keep in my suitcases and just get them out before every trip to make packing easier.
I've been lucky enough to travel extensively so I also have a few travel tips for you and my own packing for travel lists I use for all my trips. You can dowload the packing lists too and personalize them to make your packing easier. Bon Voyage!

Click on the Vintage Italy Poster to Purchase.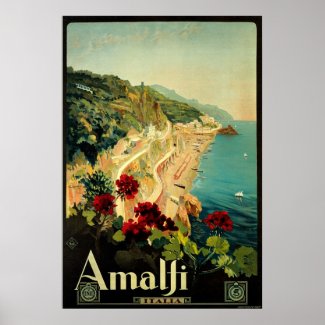 The Most Important Thing On Your Packing List
Essential Travel Attitude
Besides all the things you put in your suitcase, I think there is an  essential attitude to bring with you when traveling.
A Sense of Adventure: You would think that if you are traveling you would already have a sense of adventure, but when I travel I meet people who seem unaware that part of the travel experience is trying new things, seeing new sights, experiencing new foods and customs. For some strange reason some people leave home and try to recreate their home experiences elsewhere.
I once went on a trip to Cancun with a friend and while sitting in a coffee shop a tour guide told us about a place called XCaret which is an animal preserve in the Mayan jungle with a river running thru caves that spills out onto the beach. We had never heard of it before, but I am so glad we decided to visit.
We were greeted by hundreds of parrots sitting on low branches. We then rode horseback on the beach, saw Jaguars and Tigers on their own island, and floated thru magical crystal caves in a Green river before arriving at the Turquoise Blue ocean.
It was one of the best days of our trip and I will never forget that day. If you are ever anywhere near the Yucatan Penninsula, or even Cancun itself, I highly recommend you take a day to experience this fantastic place! Life is an adventure; take detours.
Travel Packing List
Packing List for a Vacation
My Packing Checklist for Traveling
My Purse, which has my Cell Phone
Passport
Maps
Copies of Emergency Phone Numbers, Passport, Itineraries
Jeans and Slacks
Tops
Dresses and Skirts
Coat or Jacket
Belts and Scarves
Swimsuit and Towel
Jewelry
Bras and Panties, Slips
Socks and Hosiery
Nightgown and Robe
Hat and Shoes
Binoculars
Camera and Film
Calculator
Adaptor for Cell Phone
Electrical Outlet Adapters for Other Countries
Pillow
Can Opener and Corkscrew
Vitamins
Medications
Hair Dryer and Curlers
Alarm Clock
Brush and Comb
Shampoo and Conditioner
Razors
Shower Cap
Hair Gel and Hairspray
Deodorant
Toothpaste and Toothbrush
Hand Lotion
Perfume
Kleenix
Nail Polish
Mirror
Makeup
You can also download the Packing List here: My Packing List
And for a Carry On Suitcase Packing List, click here.