Venice, Italy: Romance and Beauty to Captivate You!
This post may contain affiliate links for products I recommend. If you click a link and buy something I may receive some compensation. This does not change the price you would pay.
Venice, Italy, the Most Romantic City in Italy!
I think Venice was my favorite place in Italy. Hard to pick for sure, as the whole country is a paradise, but the water everywhere and the fact that you ride in gondolas and water taxis to get around and the beautiful architecture and the way the sun sets on the water and the way the lights reflect on the water;  it all adds up to a fantastic and romantic experience!
We were there in December so it was not crowded at all, but I'm told it is very crowded in the Summer so maybe that changed my perception but I loved everything about it. It has the same narrow streets and tall buildings and maze like feeling as Florence does, and the same charm, but it has those gondolas! We went everywhere on the water taxis, and it was so fun! Venice is another ancient city of Italy dating to the 5th century!
One thing that was sort of a let down was that they were doing construction on St. Mark's Basilica, so it made it very hard to get decent photos, as there was lots of scaffolding in the way. I tried my best though, and here are some of the photos I took. When you are looking at the detail, remember this  Basilica was consecrated in 1084!!!!! And that is real gold leaf paint that you see all over the buildings!
We love Lonely Planet Travel Books and used this one to find our way around the romantic city of Venice. They even have them on Kindle now, so it's very cheap to carry a Venice guide with you! But we also discovered we like Rick Steves. Here are both books for you to decide.
 Rick Steves Pocket Venice
 Lonely Planet Pocket Venice (Travel Guide)
Now one thing I will say is that before you get to Venice you should ask your hotel what stop your hotel is on of the public water taxi routes. We arrived at the train station with no clue where ours was, so we got one of the guys who takes your luggage in his cart and shows you the way. It was a pretty good introduction to the Grand Canal and the main street but our hotel was a good trek, about 20 minutes of walking. We stayed in the Foscari Palace, a wonderful hotel, right on the Grand Canal!  Once we got there we found out that the public water taxi stops right outside our hotel, so from then on we just hopped on one whenever we wanted to go sightseeing. I just love that the "buses" there are water taxis!!!
From our hotel we went to St. Mark's Square, clear out to the Adriatic Sea, and all around the whole island of Venice, and in and out of the little islands via the many smaller canals. It's very reasonable, and in fact when we left we took the water taxi to the train station, so that's why I say call your hotel and ask them what stop and what route to take. Otherwise, a private water taxi costs 35 Euros per person!
More St. Mark's Photos: Look at the marble carving!!!
So as I said, we stayed at Foscari Palace which we found on Hotels.com and it was amazing. Beautiful room, fantastic full breakfast, and reasonable! Plus the staff was amazing and so helpful with all our questions.
Now as far as food goes, there are cafes everywhere, and cool little restaurants on every block. We tried as many as we could and they were all very good. No one restaurant stands out, but it was Italy! Italians can cook. We tried Pizza all over town. It was all great!
We loved it. I didn't want to leave actually! I am so glad we made it to Venice!
One last Photo, available at Zazzle for you to buy: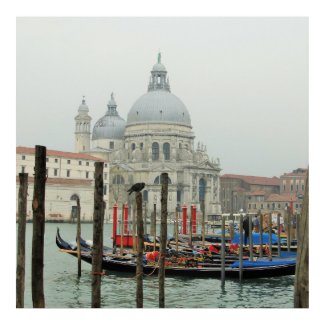 Grand Canal Gondolas Venice
by
Heather426
See additional
Poster templates
& designs online at Zazzle.com
All Photos, © Heather Burns, 2015. Please do not copy.